We are an AKC Breeder and only breed Maltese
I have puppies coming available in the Spring
GIDGET PLAYING WITH HER JINGLE BALL
PurePaws is currently in 64 countries and used on the top champion dogs around the world
Here is my Champion Boomer in the Pure Paws booth at one of the big dog shows. We use only Pure Paws on our Maltese. www.Purepawsusa.com
Kodi
CH Susens Snocap Risky Little Boomer with Handler/Owner- Susen Kennedy and Judge Mr. J. E. Gregory
We have always been more interested in breeding quality not quantity. Our goal as breeders is to produce Maltese dogs for show and beautiful

puppies

for pets. We strive to produce happy, well structured puppies in accordance with the AKC Breed standard.
CH Susens Snocap Ziggy special thanks to Handler Tonia Holibaugh
CH Susens Pure Silks Heart Bambi
CH Susens Snocap Risky Little Boomer with special thanks to Handler Tonia Holibuagh and Judge Mr. Stephen J Hubbell
CH Susens Pure Silk Hearts Bambi with Special thanks to Handler Tonia Holibaugh and Judge Mr. Norman L. Patton
CH Susens Pure Silk Hearts Bambi at Houston with special thanks to Judge Dr. Lee Anthony Resin
CH Pure Silks Susens Magical Sabina with spceial thanks to handler Saul Romero and Judge Michael Heflin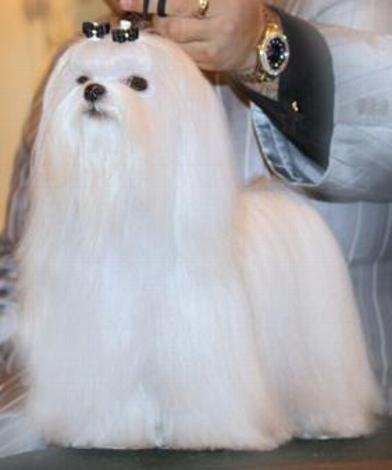 CH Pure Silks Susens Magical Sabina
| | |
| --- | --- |
| Mx Ch Pure Silk Heart of Desire (Palusa) Owners Arlene Muzquiz and Susen Kennedy | Handler: Arlene Muquiz at the Dallas show with Pure Silks Hearts of Texas (Tex) Owners Arlene Muzquiz and Susen Kennedy. Special thanks to Judge Tim Robbins |
Boomer
Many people always ask me what exactly I can tell them about the Maltese? They ask questions like, " What is the personality and temperament like?" I found the below article several years ago and thought it did a fine job of explaining the Maltese.
Toy? Who, Me?
by Lisa Hanks

The tiny Maltese, weighing in at less than 7 pounds, is a vision of beauty—almost too gorgeous to be real. Who would have suspected that under its beautiful, flowing, white tresses, and cute-as-a-button black eyes and nose, lurks the body and spirit of a much larger dog?
No fragile lap ornament, the Maltese is a sturdy, compact, gracefully muscular dog—albeit a small one. The Maltese is more than happy to recline on a lap, but the Maltese is just as thrilled to romp and play, often displaying its quick intelligence and devilish sense of humor.



Rexy

Not a timed wallflower, either, the Maltese announces invasions of its territory with a spirited barking. Once introduced, however, this friendly, gentle soul can charm the mailbag off a postman. In fact the Maltese can be so fearless and trusting that owners must be ready to defuse potentially dangerous situations, such as hard play with a much bigger dog or rough handling from children.

Properly introduced, the Maltese can participate in all the big-dog activities, such has competing in obedience, free style dancing to music and hiking trails (for short distances). The Maltese will also challenge agility obstacles with as much spirit and determination, if not the same speed, as the big dogs. Watching the Maltese long locks fly behind this tiny whirlwind as it charges up an A-frame, trying to gain the momentum to scamper over the top, is an unforgettable and heart-lifting sight

Owned by: Susen and Edward Kennedy
Contact: Susen@Susensmaltese.com

Located in Cypress Texas just 25 minutes from downtown Houston.